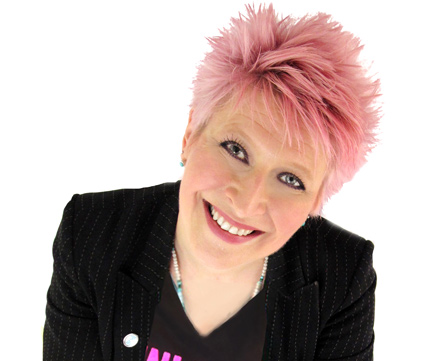 Taz Thornton / Best-selling author & Motivational Coach
Taz Thornton specialises in self-belief, confidence, personal brand and visibility and delivers motivational speaking like never before. 
She's been there, done it and seen it in ways that will make you change your view of the world and want to do better. As a high-flying corporate director, she appeared to have the world in her palm – nobody could see her crumbling beneath the pinstripes. She rebuilt after breaking her back at 21, then fought back after the breakdown at 33 that saw her seeking wisdom from shamans and medicine people, as well using every tool in her NLP and coaching toolkit to reconstruct her life.
That breakDOWN turned out to be Taz's breakTHROUGH, and she's now impacting people far and wide as the UK's #1 Inspirational Breakthrough Speaker.
Taz used her unique skillset to create the #UnleashYourAwesome empowerment seminars to rave reviews – stepping people in business out of demotivated uncertainty into a place of power-full change and motivating them to create a life far less ordinary.
Her first book hit the Amazon best sellers list within the first few days of publication and is still pulling in five star reviews. Her second book – Unleash Your Awesome – sold out four times in the first week!
Trained with the same team who taught Tony Robbins to add firewalking and extreme empowerment skills to her offering – don't be surprised if she has you walking over broken glass or breaking arrows with your throat to help you unleash your awesome!
Hand-picked to be a show co-host on American talkshow network America Out Loud, as well as a weekly columnist.
Regular guest on BBC Radio, plus featured on Sky TV, as well as being seen in Huff Post, Kindred Spirit, Spirit and Destiny, as well as being an invited TEDx speaker, plus named on the DIVA power list and as one of the leading evolutionaries on Source TV.
Taz gets people speaking honestly like you've never known – her unique blend of 'tribal' communication tools learned from shamanic cultures, NLP skills and years in top-line management means she can get right to the issues holding you and your company back. Workforce not communicating effectively? Production too slow? Too many 'personality clashes'? Low energy office? Get ready to get right to the heart of the challenges and get ready for change!
No more 'rags to riches' clichés, just real, achievable inspirational breakthroughs for real people ready for change.
"Wow. Wow. Wow. I just witnessed Taz absolutely captivate an audience at the largest business show in Europe.
"Cards on the table, I'm a motivational speaker, but I just got schooled – an absolute masterclass in how to engage and hold an audience – not just with great stories and energy, but with warmth, humility and, importantly, humanity."
Brad Burton, UK's #1 Motivational Business Speaker, Founder 4Networking.
"Dynamic, knowledgeable, refreshingly honest, challenging, passionate, high energy, witty, funny and insightful. Taz is like Tony Robbins with pink hair!"
Phil Crowshaw, founder, Geeky Group & Experts Online
"Thank you for such an inspiring (and emotional) day.  The support you've given us not only yesterday but on a daily basis is second to none, and without people like yourselves, we simply wouldn't be doing what we do – thank you."
Pet Blood Bank UK (PBBuk)