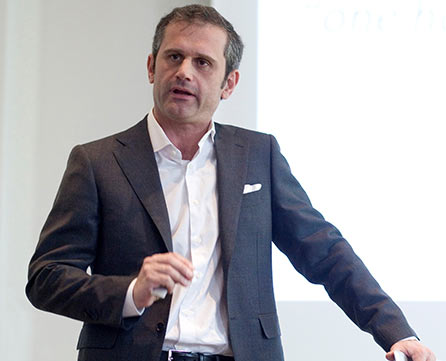 Claudio Belotti / Business Coach & NPL Trainer
Claudio has worked with the best Coaches and Trainers in 4 continents over the last 22 years.
He is one of the 4 Senior Trainers around the world for Anthony Robbins with whom he collaborates in Mastery University and Leadership Programme courses.
The co-founder of GNP, Dr Richard Bandler, gave him the highest qualification in NLP Master Trainer and he is the first in the world to receive it with his specialization in Business.
He has trained with the world's leading Business Coaching companies including John Grinder in linguistics, Robert Dilts in Coaching and Leadership and Tad James in Time Line Therapy.
He works with large Companies such as the Armani Group, the Angelini Group, Axa, Bulgari, Barclays, BMW, Credit Suisse, Google, ING Direct, IBM, l' Oreal, NH Hotels, Patrizia Pepe, Procter & Gamble, Riva Yacht and Zurich, and also with small Italian companies.